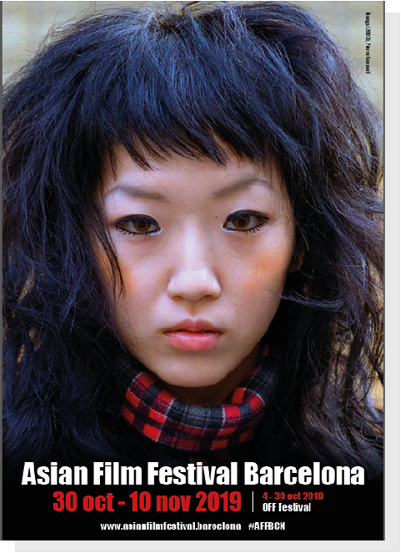 Asian Film Festival Barcelona, 2019. Barcelona | 30 Octubre -10 Noviembre 2019.
Catalan | Spanish | English
12€ | Free of charge during the festival | 24.7 x 34.2 cm | 115 pp.
AVAILABLE
12€
This year, the festival's program surpasses over one hundred films from critical geographies which challenge market globalization and impose themselves by defending their idiosyncrasy. AFFBCN celebrates its seventh edition with productions from 25 countries from Central Asia to Southeast Asia and Oceania. In this edition, the audience is able to undertake a journey through the 131 feature films, 25 short films and more than 200 screenings from Kazakhstan, Kyrgyzstan, Tajikistan and Afghanistan, to Iran, Pakistan, Bangladesh, India, Bhutan, China, Hong Kong, Macao, Mongolia, Korea, Japan, Singapore, Thailand, Cambodia, Malaysia, Philippines, Laos, Indonesia, Vietnam, Australia and New Zealand. Through a vast list of images, the festival proposes several itineraries which will allow exploring countries that share borders within the same continent's area or region or those which despite the distance that separate them keep cultures and traditions in common. As ever, AFFBCN's program comprises the following sections: Official, Official Panorama, Discoveries, Netpac and Special, all in competition. For the second time in a row, the festival hosts a selection of the Asian Film Awards Academy 2019, which annually awards the Hong Kong based Asian Film Awards Academy to the best Asian cinema. In this section nine awarded titles among this last year's best productions will be screened. Finally, a Retrospective section, resultant from the collaboration with Filmoteca de Catalunya and the Japan Foundation, will be dedicated to Yasujiro Ozu. The program will be extended with the OFF-Festival starting from October 4 with a monograph on Iranian cinema, along with a program of twenty-five short films, five documentaries and a introduction of the festival screened during the month of October.
For more information, contact the email [email protected].