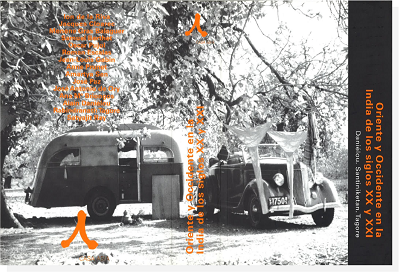 Oriente y Occidente en la India de los siglos XX y XXI. Daniélou. Santiniketan. Tagore.
Authors: Menene Gras Balaguer (Ed.), Jacques Cloarec, Ion de la Riva, Samuel Berthet, Oscar Pujol, Roman Escalas, Jean-Louis Gabin, Anne Prunet, Amartya Sen, José Paz, José Antonio de Ory, Ana M. Briongos, Alain Daniélou, Rabindranath Tagore, Satyajit Ray.
Spanish
84-932950-0-0
50,00€ | Paperback | 16 x 22 cm | 494 pp.
OUT OF STOCK
Casa Asia | Barcelona, 2004
50€
In the last piece of writing published by Tagore before his death, Crisis de la Civilización, he made an assessment of the Indian identity and colonial domination is to condemn the oppression endured by the Indian people. East and West are words easily turned into concepts, by the use that has been made of them, to designate what is not equal in a wide cartography which extends from east to west and vice versa. Today, the presence of the West is so visible in what we call the East, politically, economically and culturally, as the Orientalization of the West. This book goes back to the official donation made by the musical funds of Alain Daniélou to the city of Barcelona, ​​and which Casa Asia later digitalized. It includes about 50 samples of ethnic and traditional music recorded in India by Daniélou in the 30s. As well as other recordings he made in other countries such as Afghanistan, Iran, Japan, Thailand and Azerbaijan which were also incorporated following his world tour in 1936. The volume brings together texts by eleven specialists, excerpts from Daniélou's works, several texts by Rabrindanath Tagore and the portrait of Tagore by Satyajit Ray.
For mor einformation, contact the email [email protected].