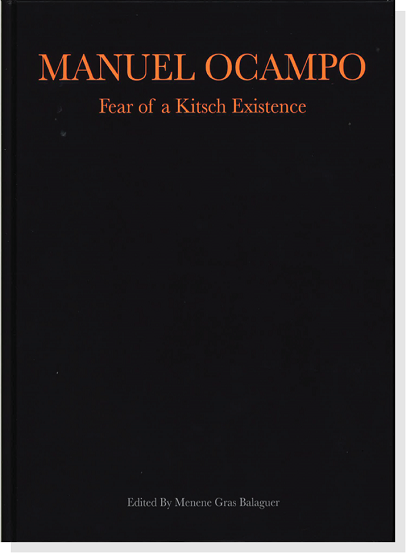 Manuel Ocampo. Fear of a Kitsch Existence (1989-2017).
Authors: Menene Gras Balaguer (Ed.), Valérie Aébi-Sarrazy, Kenneth Baker, Fernando Castro Flórez, Sandra Danicke, Curro González, Jonathan Harris, Emmanuel Latreille, Chon A. Noriega, Guillermo Pérez Villalta, Jennifer P. Borum, Kevin Power, Pedro G. Romero.
English
978-84-932950-8-0
€ | Hardcover | 24.6 x 31.6 cm | 416 pp.
Consult Nosbaum
Casa Asia | Barcelona, 2017
A consultar
Manuel Ocampo's second book, which was presented by Casa Asia, reviews more than three decades of the Filipino artist's career, from the late 80s until the present. "Fear of a Kitsch Existence" shows how Ocampo thinks that his work should be considered; although he leaves it open to interpretation. The book gathers about 300 images, some of them functioning as key representations of a post colonial discourse that is explicitly clear through all of his work. This volume has the intention of making accessible an artistic work that isn't always easy to understand, in spite of the apparent popularity of the images and their relationships with a recognizable iconography. As an illegitimate son, or a "bastard" as Ocampo calls himself and the artists of his generation, he had to acquire the ability to misrepresent reality to be a free individual.
For more information, contact the email [email protected].