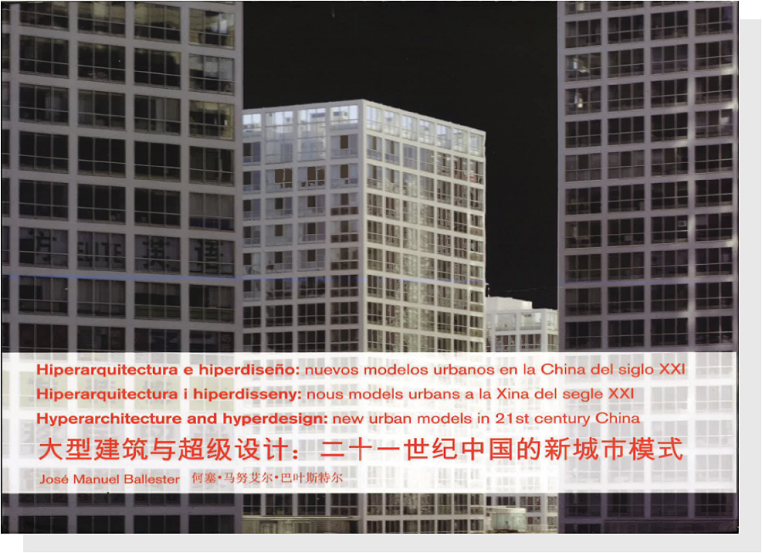 Authors: Menene Gras Balaguer (Ed.), José Manuel Ballester.
Spanish | Catalan | English | Chinese
978-84-932950-7-3
44,00€ | Hardcover | 31.3 x 24.5 cm | 303 pp.
Casa Asia, Fundación ASTROC | Barcelona, 2007
Ibérica Overseas, Año de España en China, Puerto de Barcelona, CAFA (Central Academy of Fine Arts), Embajada de España en China, Embajada de la República Popular de China en España.
44€
This book contains a selection of images captured by José Manuel Ballester in China, following the usual procedure in his work mode, both in architectural painting and in urban photography. His records are ultimately equivalent to the artist's discoveries as a result of his repeated trips to China and his investigation of the new cities that have arisen from the spectacular economic growth experienced in this country. The Chinese city has become the model or archetype of a growing city which aspires to sustainable development and whose transformation is becoming more radical. The immense cement blocks recently built or being built constitute authentic silent agglomerations of monoliths deployed in space, as if they were implanted dolmens that have prematurely aged. The prefix "hyper" designates excess, abundance, disproportion, and the terms "hyperachitecture" and "hyperdesign" are respectively inseparable from what is understood by "hypermodernity". After his fourth trip to China, the author closed the photographic series with an exhibition inaugurated in Casa Asia which later itinerated to the Central Academy of Fine Arts, in Beijing.
For more information, contact the email [email protected].