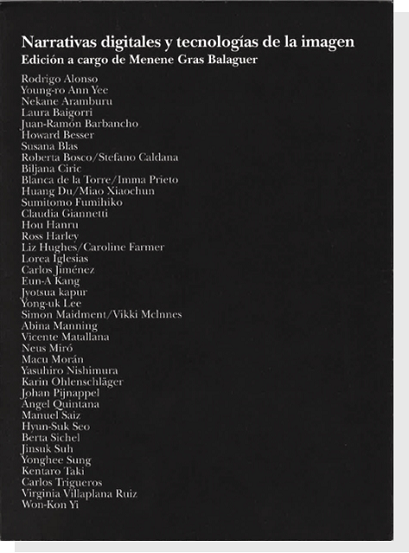 Authors: Menene Gras Balaguer (Ed.), Jinsuk Suh, Manuel Saiz, Sumimoto Fumihiko, Johan Pijnappel, Yonghee Sung, Hou Hanru, Nekane Aramburu, Blanca de la Torre, Imma Prieto, Kentaro Taki, Susana Blas, Hyun-Suk Seo, Neus Miró, Yong-uk Lee, Carlos Trigueros, Abina Manning, Howard Besser, Lorea Iglesias, Ross Harley, Claudia Giannetti, Laura Baigorri, Virginia Villaplana Ruiz, Roberta Bosco, Stefano Caldana, Karin Ohlenschläger, Simon Maidment, Vikki Mclnnes, Vicente Matallana, Berta Sichel, Ángel Quintana, Yasuhiro Nishimura, Rodrigo Alonso, Jyotsua Kapur, Carlos Jiménez, Young-ro Ann Yee, Macu Morán, Eun-A Kang, Juan Ramón Barbancho, Biljana Ciric, Won-Kon Yi, Liz Hughes, Caroline Farmer, Huang Du, Miao Xiaochun.
Spanish | English
978-84-936363-9-5
15,00€ | Paperback | 16.3 x 22.1 cm | 785 pp.
Ministerio de Educación y Cultura, Casa Asia | Barcelona, 2012
Loop, Haier.
15€
Production in video support has ceased to be purely experimental and the new formats of production and presentation have been expanded, as well as their interdisciplinary contents, marked both by the mutual approaches between video and cinema and by the development of new technologies of the information and the communication. This forces us to redefine practices and productions that respond more to the characteristics of an "expanded video", which continues to investigate formats, modes of presentation and distribution, on which the future development of art depends to a great extent. The numerical image and other technical resources related to software, graphic programs and synthetic images have potentially transformed the expressive and conceptual options of this image machine that we call video. This publication provides its readers a series of impressionable texts not only to build the recent history of video art but also to contribute to the reflection on the medium and the format in which it is presented, as well as on contemporary artistic practices and their incidence in current digital narratives. The volume is structured from the following sections: I. "Where are you from?"; II. "Locate and archive for another video art story"; III. "Considering the video: production and distribution"; IV. "The future of visual arts on the Web"; V. "On the expanded field of the moving image"; and VI. "The triple W. Study of Cases".
For more information, contact the email [email protected].