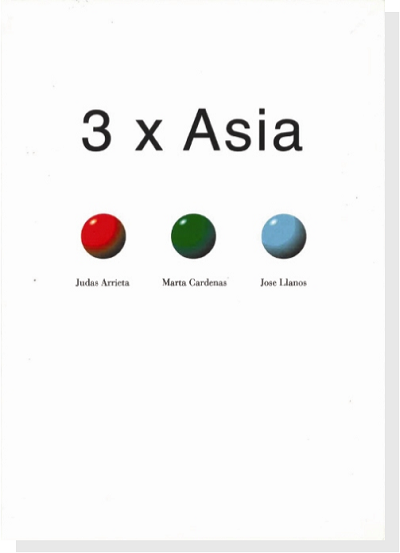 3 x Asia. Marta Cárdenas, Judas Arrieta y José Llanos.
Authors: Ion de la Riva, Álvaro Machimbarrena, Judas Arrieta, Marta Cárdenas, José Llanos.
Spanish
84-932950-3-5
15,00€ | Paperback | 17.5 x 24.3 cm | 159 pp.
Casa Asia | Barcelona, 2005
15€
"3 x Asia" is the title of this publication, coinciding with the project carried out at Casa Asia which brought together three Basque authors. Marta Cárdenas, Judas Arrieta and José Llanos, the authors of the respective works gathered in this exhibition, had an common inspirational link: Asia. Through their own experiences, journeys and interaction with oriental culture, each one of them channeled their way of perceiving and integrating this influence. Judas Arrieta uses "manga art" style and the otaku culture through the art of story-telling, such as "Paquete postal" or "Momotaro", both included in this volume along with the work he has done on various media, from mural painting to video format. On the other hand, Marta Cárdenas's work, "Mi vieja amistad con Asia", shows the repercussion on her works of the fusion of Chinese calligraphy, the Nō theater and the remote landscapes which led her to her particular abstraction. Finally, José Llanos, in "Historias de Geishas y Samuráis víctimas de las modas" combined from a critical point of view humor and modernity which always opposes the traditional world through six fictional portraits, distorting the real and figurative meaning of symbols and signs of the present and the past.
For more information, contacta  the email [email protected].