Casa Asia and ASEF through culture360.ASEF.org and Casa Asia are pleased to launch the open call for At Home/Being Home, an e-residency for young emerging artists from the performing arts, music, film and new media sectors. With this e-residency we continue to organise virtual capacity building initiatives in response to the impact of the global pandemic.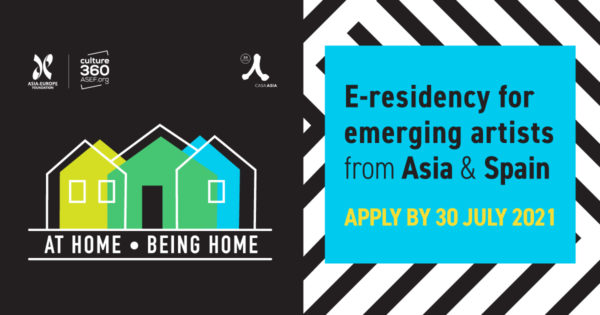 The residency will consist of a capacity building component and a collaborative component. It will be held online for a period of 6 weeks and will offer an opportunity for capacity building, peer learning and collaboration. 4 participants from Spain and Asia will be selected through an open call and grouped in pairs.  Each pair will work together with the support of a mentor expert in this field, who will guide the two pairs of artists to develop their project.
Submission of Applications
We invite you to submit your application through this form and attach the required documents before by 30 July 2021.
A panel comprising one representative from Casa Asia, one representative from ASEF and the mentor will evaluate and select the participants.
Please note that only successful candidates will be notified latest by 10 September 2021.
Open call for applications: 15 June to 30 July 2021
Selection: 1 to 27 August 2021
Announcement of selected participants: 10 September 2021
Online residency: 15 September to 29 October 2021
Presentation of outcomes and online activities: 15 to 19 November 2021
Public webinar with participants, mentor & organisers: November-December 2021