The Asian Film Festival Barcelona (AFFBCN) celebrates its eighth edition this year. This contest, specialized in Asian cinema, will be held from October 28 to November 8 in a mixed format: in person and online. The festival will present more than a hundred feature films that will be screened at Cinemes Girona, CaixaForum and Filmoteca de Catalunya, and also on FILMIN online cinema platform.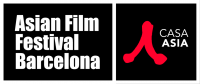 As in previous editions, the festival will screen feature films from more than 25 countries in the Asia-Pacific region, from Iran and the former Soviet republics of Central, East and South Asia, Southeast Asia to Australia and New Zealand.
All the productions presented this year have been made between 2018 and 2020, and will be distributed among the following sections: Official, Official Panorama, Discoveries, Netpac and Special, all of them in competition. It is auteur cinema where drama predominates as the genre par excellence that characterizes this festival, and a proposal that suggests a journey to discovery, and where political, human and social geography play a leading role, according to its director Menene Gras.
For the director of AFFBCN 2020 "the festival tries to address independent and experimental cinema from other countries, whose growth in this field should also be taken into account due to their increasingly solid contributions, without prejudice to hosting more than consolidated cinematographies such as those that come from countries that have a large industry and a powerful market, such as Iran, India, China, Japan and Korea".
For this reason, the majority of ASEAN countries (Association of Southeast Asian Nations) each year have a greater role in the festival's programme. In this edition the film project "Mekong 2030" is presented, which serves to backbone the film production made recently in this part of the world and in neighbouring countries.
The new edition of the Asian Film Festival Barcelona | AFFBCN 2020 includes an extensive film programme, meetings, conferences and seminars with the intention of contributing to the knowledge of cinematographies that are not usually present in commercial circuits.
This year the festival is adapted to the exceptional coronavirus (COVID-19) health crisis. Cinemes Girona (Barcelona) will continue to be the main venue of the Festival, together with CaixaForum and Filmoteca de Catalunya, where the retrospective of  the Japanese director Kinuyo Tanaka will be held by the Japan Foundation. In addition, this year the Festival has adds an online section onthe FILMIN platform, where since July 2020 we have opened the CASA ASIA Channel.